A powerful online presence starts with a great website!
WEBSITE DESIGN
Mint offer full website design as well as website development services. Our websites are modern, stylish and especially unique. Built using clever innovative design as well as mobile responsive technology to make sure your new website looks great on any device. As digital marketing specialists, we focus strongly on functionality, user experience and website SEO so that your new website has the best chance to rank well on a Google search.
From a simple website design to a fully customised or an e-commerce website to sell your products online, our Mint web design team can build you a website tailored to suit your business that will certainly stand out amongst your competitors! Our web developers create high quality innovative "Mint as" websites designed to be eye-catching and easy to use as well as futureproofed.  A Mint website delivers a professional and unique online experience to your audience that you can certainly be proud of. We don't just make good websites, we make them great!
Our websites are always designed to meet the best practise guidelines from Google, as well as being mobile-responsive. This ensures your new website will rank higher on a mobile search and will also deliver a great experience for mobile users. Consumers are now using the internet to research online far more than any other method to find the products and services they need. If you do not have a well-functioning online presence then you are not competing for your share of the online market.
A well-designed and well-structured professional website can certainly facilitate the creation of your online brand and personality and enable you to compete with the bigger players in your industry. We certainly work hard to design and create the best websites for our clients.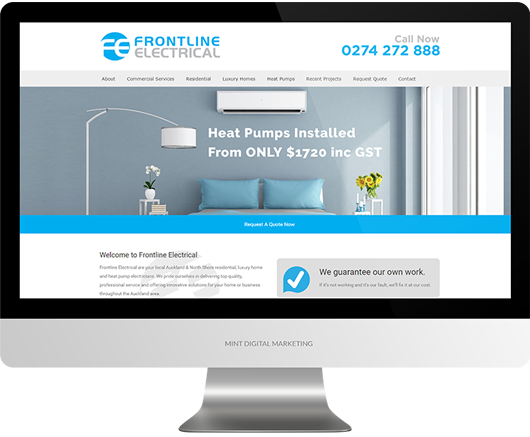 BASIC
To begin with our basic websites allow you to choose from thousands of different website designs. We design a semi-customised home page so your website is unique and stands out amongst your competitors. Our Mint web development team are highly skilled at producing great looking, easy to navigate basic websites that are SEO optimised, mobile responsive as well as deliver excellent online brand presence for our your business. A semi-customised basic website may be the right solution for you if you own a small business, especially if you want to establish an effective online presence with a limited budget.
CUSTOM
Fully customised websites are purpose built to suit your needs, giving you full control of content and design layout to add your unique style as well as creativity. Our talented team of web designers work closely with you to create an innovative, unique, SEO rich as well as mobile responsive custom website tailored to your business. Working with Mint assures you a unique style and top quality design as well as prompt completion of your website to the highest standard. We design websites that create a strong first impression as well as make your online brand stand out from the crowd.
ECOMMERCE
A well thought out and custom designed e-commerce website should grab your website visitor's attention and communicate easily why customers should of course, buy from you. The Mint website team start by working with you to understand your business as well as define the type of shopping experience you want your online customers to have. We then develop an e-commerce website solution to meet your specific needs. Our experienced team guide you step by step through the process of designing your e-commerce site to function well as well as deliver a positive online shopping experience for your customers. Let us design the e-commerce website that your customers will surely want to keep coming back to!
COPYWRITING
Content is king when building a new website. Website content writing (copywriting) specifically incorporates keyword rich text to help you rank higher on a Google search. Our expert copywriters write compelling as well as persuasive content that incorporates thoroughly researched high quality keywords to maximise search engine optimisation (SEO). A thorough understanding of search engines is certainly required for optimum website copywriting to ensure your website appears above your competitors in search results. Our professional copywriting service is an investment in the success of your business online particularly worth considering. At Mint we take the time to understand your business so we can ensure your website content provides the information your customers are looking and attracts new customers.
GET YOUR
FREE
WEBSITE ANALYSIS
FROM TRACEY
PRICES FROM ...
Basic customization
Up to 10 pages
Mobile responsive
CMS (editable by you!)
SEO
Google analytics
and more…
Full customisation
Unlimited pages
Mobile responsive
CMS (editable by you!)
SEO
Google analytics
and more…
Full customisation
Unlimited shop pages as well as products loaded
Mobile responsive
CMS (editable by you!)
SEO
Google analytics
and more…
"Mint Digital Marketing have been awesome, we have been a little nervous starting a website for our new business and working with them has been a breeze. I highly recommend Mint Digital to anyone looking for web development or even straight forward marketing. Money well spent, thanks team!"
Sarah Adamson, Trailor Made
"We approached Mint Digital Marketing to design and implement a new website after determining ours was outdated and under performing. Right from the initial meeting I was impressed with the knowledge displayed and willingness to listen. Mint provided me with a realistic plan to ensure our website would perform. After following their plan we have achieved the number one organic ranking for all our keywords. We receive constant compliments on the look and functionality of our website and have even noticed our competitors copying us! Mint now helps us with all our digital marketing including website, Google and social. They are very professional and insist on having regular meetings with us where they never cease to amaze me with the different and relevant marketing ideas they put forward that are tailored to our business. I would have no hesitation in recommending Mint Digital Marketing to other business owners. They have been a revelation for us."
Damian Conn, Hair to stare at
"We couldn't rate Mint Digital Marketing high enough... we had an old clunky website and it was out of date. Tracey arranged a meeting with us through a referral and was on the ball the minute she walked through the door! Suggesting different ways we can boost our exposure and explaining why this works and what works the best. She was full of knowledge and suggestions which was great. We now have a fantastic professional website that gives us all the bells and whistles. Not only did they help with the website but also revamping our old logo and adding a Google + page. We are wrapped with the service and the continued contact that Tracey and Arron have with us. We couldn't recommend them enough. Thanks Tracey & Arron!! Thanks a bunch."
Missy Oliver, Arborcore Tree Services
"Tracey and Arron are so easy to work with, they really know their stuff! They had so many great ideas, my new website has had a massive impact on my business! Thanks heaps guys!"
Toni Rogers, TLC Hairdressing
"We could not be happier with how amazing our website turned out. Mint Digital Marketing have out done themselves!! We have had nothing but great feedback at how incredible it looks. Working with Tracey was such a wonderful experience, I personally don't even know where to start when it comes to computers I'm pretty technologically illiterate so to have Tracey from Mint walk me through it all has been a blessing. We are so proud of our website for our new business Hereford House. Thanks for all you hard work and continued support!"
Sylvia Harding, Hereford House
"Tracey and her team have created us the most beautiful website that works really well and although it's early stages for Kiwibird Baby Gifts we are now getting online orders yay. Very professional, excellent attention to detail and available for any questions/ queries we may have. Highly recommend these amazing people to help your business get to the next level!"
Nichola Reeves , Kiwibird Baby Gifts